Yesterday I headed to Berlin to hang out with Michelle Thorne, Mozilla Event Coordinator Extraordinaire, and meet with Erin Knight and Jess Klein via Skype. We could have done the meeting from our four separate locations, but I thought it would be a good idea to be in a room with Michelle when we started talking about how to generalize the P2PU Challenges. I was right. It never ceases to amaze me the power of in person hacking.
The four of us talked about the Learning Group's roadmap and plans. The big to do is to create curriculum for the web literacy skills Michelle Levesque has been diligently compiling and refining over the last few months as well as curriculum for all the Mozilla projects (eg Hackasaurus, Popcorn, the Hive, and Mojo). We want to create a sort of plug-and-play Event Kit that teaches people how to run an event. The kit will be modular, allowing people to learn about running different types of events while having access to different types of curriculum while having access to resources.
Sound confusing? Here's a flowchart to help you understand how I interpret the ideas about this Event Kit. (Note: I'm not considering this completely finished, it needs some fleshing out. Feel free to comment on and hack my flowchart).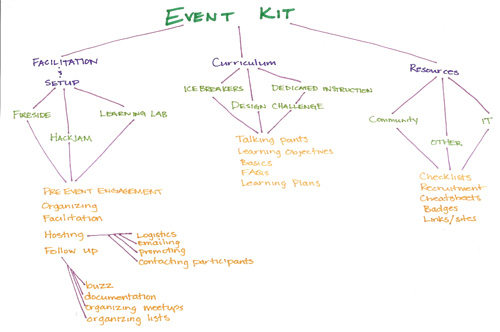 There are several reasons why we're doing this, but the big one, in my mind, is that in person jamming leads to better retention, better productivity, better community. We work in a digital world, but it's the real world meetups that make collaboration asynchronously and across great distances really work. I'm not saying you can't do a whole helluva lot via communication technology, I'm saying that the inperson repetoire you establish when you look someone in the eyes is valuable and necessary. As are things like validation, confirmation, spitballing, brainstorming, and lunching.
Over the coming days, I want to place this flowchart into a bigger flowchart, one that outlines my thoughts about the learning program as a whole. But before I get there I have some other thoughts to work out, and I should probably talk to my colleagues and find out if such a crazy flowchart already exists!
Related articles