Open Attribute is a browser plugin that makes the process of attributing content authors extremely easy. With a click of a button, the plugin shows you who deserves the attribution and gives you a handy, already formatted piece of text to copy and paste. Because the attribution is automatically formatted, the confusion surrounding attribution of open content is eliminated. The browser plugin has been a big hit. We started with the browser tools to give everyone the ability to start attributing right away.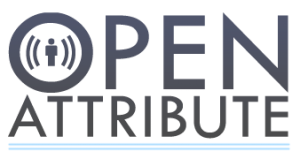 After seeing how interested everyone was in the browser tools, the Open Attribute group got started creating plugins for Drupal and WordPress. We're excited to launch them this week! The WordPress plugin adds the Open Attribute icon to the WordPress editor, making it easy for bloggers to grab attribution information from inside WP.
We lucked out with our group. Molly Kleinman has been invaluable as the "Educator Lead" (she admits herself that she has no idea what this means). Really, Molly has been cat wrangling and project managing within the group. Pat Lockley has been handling a large part of the development work in conjunction with Paul Booker, Hans Lemuet and Nathan Yergler. And let's not forget the mentions of the Mozilla crew shouting out "Open Attribute!" from the rooftops – Ben Moskowitz and Matt Thompson. As a group, we've had incredible dynamic. Everyone is ready to pitch in, and it is therefore that after the WP and Drupal launch, we'll jump right in to creating plugins for other systems.
Related articles